Product Summary
The GD82559ER is a 32-bit Fast Ethernet PCI Controller. It consists of both the Media Access Controller (MAC) and the physical layer (PHY) combined into a single component solution. The GD82559ER features enhanced scatter-gather bus mastering capabilities which enables it to perform high-speed data transfers over the PCI bus.The GD82559ER bus master capabilities enable the component to process high-level commands and perform multiple operations, thereby off-loading communication tasks from the system CPU. Two large transmit and receive FIFOs of 3 Kbytes each help prevent data underruns and overruns, allowing it to transmit data with minimum interframe spacing (IFS). The GD82559ER can operate in either full duplex or half duplex mode. In full duplex mode it adheres to the IEEE 802.3x Flow Control specification. Half duplex performance is enhanced by a proprietary collision reduction mechanism.
Parametrics
GD82559ER absolute maximum ratings: (1)Case Temperature under Bias (standard temperature part): 0 to 85℃; (2)Storage Temperature: -65 to 140℃; (3)Outputs and Supply Voltages (except PCI and SMB): -0.5 V to 5.0 V; (4)PCI and SMB Output Voltages: -0.50 V to 5.25 V; (5)Transmit Data Output Voltage: -0.5 V to 8.0 V; (6)Input Voltages (except PCI and SMB): -1.0 V to 5.0 V; (7)PCI and SMB Input Voltages: -0.5 V 6.0 V.
Features
GD82559ER features: (1)Optimum Integration for Lowest CostSolution; (2)Integrated IEEE 802.3 10BASE-T and 100BASE-TX compatible PHY; (3)Glueless 32-bit PCI master interface; (4)128 Kbyte Flash interface; (5)Thin BGA 15mm2 package; (6)ACPI and PCI Power Management; (7)Power management event on; (8)change support: Test Access Port; (9)Available in extended temperature version: Extended temperature range: -25℃ to +85℃ case temperature; (10)High Performance Networking Functions; (11)Chained memory structure similar to the 82559,82558, 82557, and 82596; (12)Improved dynamic transmit chaining with multiple priorities transmit queues; (13)Full Duplex support at both 10 and 100 Mbps; (14)IEEE 802.3u Auto-Negotiation support; (15)3 Kbyte transmit and 3 Kbyte receive FIFOs; (16)Fast back-to-back transmission support with minimum interframe spacing; (17)IEEE 802.3x 100BASE-TX Flow; (18)Control support; (19)Low Power Features; (20)Low power 3.3 V device; (21)Efficient dynamic standby mode; (22)Deep power down support; (23)Clockrun protocol support.
Diagrams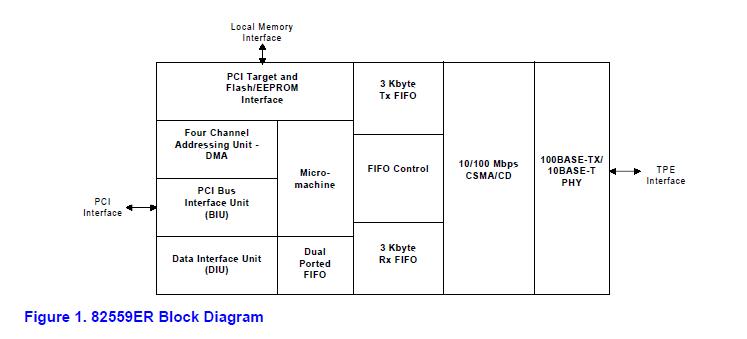 Image
Part No
Mfg
Description
Pricing
(USD)
Quantity

GD82559ER

Other



Data Sheet

Negotiable

GD82559ERSL3DG

Intel

IC ETH PCI/CARDBUS CTRL 196BGA

Data Sheet



| | |
| --- | --- |
| 1-10: | $10.75 |
| 10-100: | $8.18 |
| 100-250: | $7.01 |
| 250-500: | $6.31 |
| 500-1000: | $6.08 |
| 1000-2000: | $5.84 |
| 2000-4800: | $5.73 |
| 4800-9600: | $5.61 |


GD82559ERSL3TU

Intel

IC ETHRNT 10/100 PCI CTRL 196BGA

Data Sheet



| | |
| --- | --- |
| 1-10: | $10.75 |
| 10-100: | $8.18 |
| 100-250: | $7.01 |
| 250-500: | $6.31 |
| 500-1000: | $6.08 |
| 1000-2000: | $5.84 |
| 2000-4800: | $5.73 |
| 4800-9600: | $5.61 |