Product Summary
The LTC1420CGN is a 10Msps, 12-bit sampling A/D converter that draws only 250mW from either single 5V or dual ±5V supplies. This easy-to-use device includes a high dynamic range sample-and-hold, a precision reference and a PGA input circuit. The LTC1420CGN has a flexible input circuit that allows fullscale input ranges of ±2.048V ±1.024V and ±0.512V. The input common mode voltage is arbitrary, though a 2.5V reference is provided for single supply applications. The applications of the LTC1420CGN include: Telecommunications, Digital Signal Processing, Multiplexed Data Acquisition Systems, High Speed Data Acquisition, Spectral Analysis, Imaging Systems.
Parametrics
LTC1420CGN absolute maximum ratings: (1)Supply Voltage (VDD): 6V; (2)Negative Supply Voltage (VSS): –6V; (3)Total Supply Voltage (VDD to VSS): 12V; (4)Analog Input Voltage: (VSS – 0.3V) to (VDD + 0.3V); (5)Digital Input Voltage: (VSS – 0.3V) to (VDD + 0.3V); (6)Digital Output Voltage: (VSS – 0.3V) to (VDD + 0.3V); (7)Power Dissipation: 500mW; (8)Operating Temperature Range: 0℃ to 70℃; (9)Storage Temperature Range: –65℃ to 150℃; (10)Lead Temperature (Soldering, 10 sec): 300℃.
Features
LTC1420CGN features: (1)10Msps Sample Rate; (2)Single 5V Supply or ±5V Supplies; (3)Integral Nonlinearity Error <0.35LSB; (4)Differential Nonlinearity <0.25LSB; (5)71dB S/(N + D) and 83dB SFDR at Nyquist; (6)100MHz Full-Power Bandwidth Sampling; (7)±2.048V, ±1.024V and ±0.512V Bipolar Input Range; (8)Input PGA; (9)Out-of-Range Indicator; (10)True Differential Inputs with 75dB CMRR; (11)Power Dissipation: 250mW; (12)28-Pin Narrow SSOP Package.
Diagrams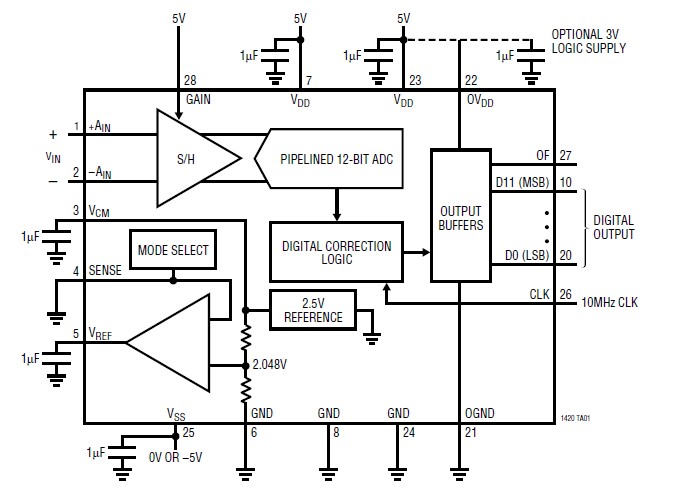 Image
Part No
Mfg
Description
Pricing
(USD)
Quantity

LTC1420CGN#TRPBF



IC ADC 12BIT 10MSPS SAMPL 28SSOP

Data Sheet



LTC1420CGN#TR



IC ADC 12BIT 10MSPS SAMPL 28SSOP

Data Sheet



LTC1420CGN#PBF



IC ADC 12BIT 10MSPS SAMPL 28SSOP

Data Sheet



| | |
| --- | --- |
| 0-1: | $7.54 |
| 1-25: | $5.10 |
| 25-100: | $4.34 |


LTC1420CGN



IC ADC 12BIT 10MSPS SAMPL 28SSOP

Data Sheet