Product Summary
The MPC8255ACZUMHBB is a Communication Processor.
Parametrics
MPC8255ACZUMHBB absolute maximum ratings: (1)Core supply voltage VDD: -0.3 to 2.5 V; (2)PLL supply voltage VCCSYN: -0.3 to 2.5 V; (3)I/O supply voltage VDDH: -0.3 to 4.0 V; (4)Input voltage VIN: GND(-0.3) to 3.6 V; (5)Junction temperature Tj: 120 ℃; (6)Storage temperature range TSTG: (-55) – (+150) ℃.
Features
MPC8255ACZUMHBB features: (1)A core version of the EC603e microprocessor; (2)System core microprocessor supporting frequencies of 150–300MHz; (3)Separate 16-Kbyte data and instruction caches: Four-way set associative, Physically addressed, LRU replacement algorithm; (4)PowerPC architecture-compliant memory management unit (MMU); (5)Common on-chip processor (COP) test interface; (6)High-performance (6.6–7.65 SPEC95 benchmark at 300 MHz; 1.68 MIPs/MHz without inlining and 1.90 Dhrystones MIPS/MHz with; (7)Supports bus snooping for data cache coherency; (8)Floating-point unit (FPU).
Diagrams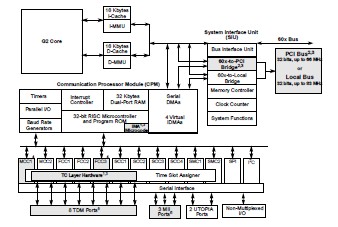 Image
Part No
Mfg
Description
Pricing
(USD)
Quantity

MPC8255ACZUMHBB

Freescale Semiconductor

Microprocessors (MPU) POWERQUICC II HIP4 REV B

Data Sheet



| | |
| --- | --- |
| 0-9: | $103.91 |
| 9-10: | $98.03 |
| 10-25: | $92.48 |
| 25-100: | $57.80 |

Image
Part No
Mfg
Description
Pricing
(USD)
Quantity

MPC800

Other



Data Sheet

Negotiable

MPC801

Other



Data Sheet

Negotiable

MPC801KG

Other



Data Sheet

Negotiable

mPC8104GR

Other



Data Sheet

Negotiable

mPC8106TB

Other



Data Sheet

Negotiable

mPC8109TB

Other



Data Sheet

Negotiable