Product Summary
The BC856W,115 is a PNP general purpose transistor. The applications of the BC856W,115 include General purpose switching and amplification.
Parametrics
BC856W,115 absolute maximum ratings: (1)VCBO collector-base voltage open emitter: -80V; (2)VCEO collector-emitter voltage open base: -65V; (3)VEBO emitter-base voltage open collector: -5V; (4)IC collector current (DC): -100mA; (5)ICM peak collector current: -200mA; (6)IBM peak base current: -200mA; (7)Ptot total power dissipation Tamb≤25℃; note 1: 200mW; (8)Tstg storage temperature -65 to +150℃; (9)Tj junction temperature: 150℃; (10)Tamb operating ambient temperature -65 to +150℃.
Features
BC856W,115 features: (1)Low current (max. 100 mA); (2)Low voltage (max. 80); (3)S-mini package.
Diagrams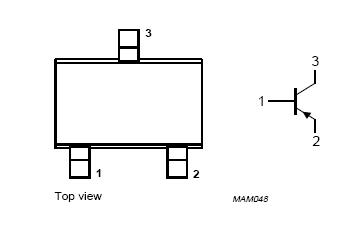 Image
Part No
Mfg
Description
Pricing
(USD)
Quantity

BC856W,115

NXP Semiconductors

Transistors Bipolar (BJT) TRANS GP TAPE-7

Data Sheet



| | |
| --- | --- |
| 0-1: | $0.09 |
| 1-25: | $0.08 |
| 25-100: | $0.06 |
| 100-250: | $0.03 |

Image
Part No
Mfg
Description
Pricing
(USD)
Quantity

BC850ALT1

Other



Data Sheet

Negotiable

BC850AMTF

Fairchild Semiconductor

Transistors Bipolar (BJT) SOT-23 NPN GP AMP

Data Sheet



| | |
| --- | --- |
| 0-1: | $0.04 |
| 1-25: | $0.03 |
| 25-100: | $0.02 |
| 100-250: | $0.02 |


BC850AMTF_Q

Fairchild Semiconductor

Transistors Bipolar (BJT) SOT-23 NPN GP AMP

Data Sheet



| | |
| --- | --- |
| 0-1: | $0.02 |
| 1-25: | $0.01 |
| 25-100: | $0.01 |
| 100-250: | $0.01 |


BC850ATA

Diodes Inc. / Zetex

Transistors Bipolar (BJT) -

Data Sheet

Negotiable

BC850ATC

Diodes Inc. / Zetex

Transistors Bipolar (BJT) -

Data Sheet

Negotiable

BC850B

Fairchild Semiconductor

Transistors Bipolar (BJT) SOT-23 NPN GP AMP

Data Sheet

Negotiable