Product Summary
The CY7C68013-56PVXC is an 8-bit Microcontroller. Cypress Semiconductor Corporation EZ-USB CY7C68013-56PVXC is a low-power version of the EZ-USB FX2TM (CY7C68013), which is a highly integrated, low-power USB 2.0 microcontroller. By integrating the USB 2.0 transceiver, serial interface engine (SIE), enhanced 8051 microcontroller, and a programmable peripheral interface in a single chip, Cypress has created a very cost-effective solution that provides superior time-to-market advantages with low power to enable bus powered applications. The ingenious architecture of CY7C68013-56PVXC results in data transfer rates of over 53 Mbytes per second, the maximum-allowable USB 2.0 bandwidth, while still using a low-cost 8051 microcontroller in a package as small as a 56 QFN. Because it incorporates the USB 2.0 transceiver, the CY7C68013-56PVXC is more economical, providing a smaller footprint solution than USB 2.0 SIE or external transceiver implementations. With EZ-USB FX2LP, the Cypress Smart SIE handles most of the USB 1.1 and 2.0 protocol in hardware, freeing the embedded microcontroller for application-specific functions and decreasing development time to ensure USB compatibility.
Parametrics
CY7C68013-56PVXC absolute maximum ratings: (1)Storage Temperature : –65℃ to +150℃; (2)Ambient Temperature with Power Supplied: 0℃ to +70℃; (3)Supply Voltage to Ground Potential : –0.5V to +4.0V; (4)DC Input Voltage to Any Input Pin : 5.25V[15]; (5)DC Voltage Applied to Outputs in High Z State: –0.5V to VCC + 0.5V; (6)Power Dissipation : 300 mW; (7)Static Discharge Voltage : > 2000V; (8)Max Output Current, per I/O port : 10 mA; (9)Max Output Current, all five I/O ports (128- and 100-pin packages): 50 mA.
Features
CY7C68013-56PVXC features: (1)USB 2.0–USB-IF high speed certified (TID # 40440111); (2)Single-chip integrated USB 2.0 transceiver, smart SIE, and enhanced 8051 microprocessor; (3)Fit, form and function compatible with the FX2: Pin-compatible, Object-code-compatible, Functionally-compatible (FX2LP is a superset); (4)Ultra Low power: ICC no more than 85 mA in any mode: Ideal for bus and battery powered applications; (5)Software: 8051 code runs from: Internal RAM, which is downloaded via USB, Internal RAM, which is loaded from EEPROM, External memory device (128 pin package); (6)16 KBytes of on-chip Code/Data RAM; (7)Four programmable BULK/INTERRUPT/ISOCHRONOUS endpoints: Buffering options: double, triple, and quad.
Diagrams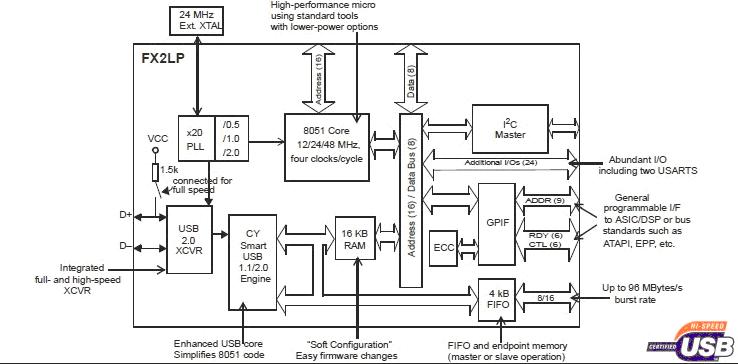 Image
Part No
Mfg
Description
Pricing
(USD)
Quantity

CY7C68013-56PVXC



IC MCU USB PERIPH HI SPD 56SSOP

Data Sheet

Negotiable
Image
Part No
Mfg
Description
Pricing
(USD)
Quantity

CY7C006

Other



Data Sheet

Negotiable

CY7C006A

Other



Data Sheet

Negotiable

CY7C006A-15AXC

Cypress Semiconductor

SRAM 5V 16Kx8 COM Dual Port SRAM

Data Sheet

Negotiable

CY7C006A-15AXCT

Cypress Semiconductor

SRAM 5V 16Kx8 COM Dual Port SRAM

Data Sheet

Negotiable

CY7C006A-20AC



IC SRAM 16KX8 DUAL 64LQFP

Data Sheet

Negotiable

CY7C006A-20AXC

Cypress Semiconductor

SRAM 5V 16Kx8 COM Dual Port SRAM

Data Sheet



| | |
| --- | --- |
| 0-1: | $16.80 |
| 1-25: | $13.44 |
| 25-100: | $12.59 |
| 100-250: | $11.76 |